Special equipment for sludge dewatering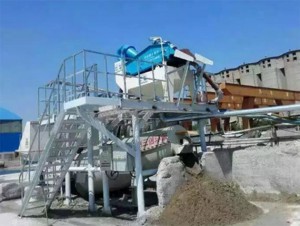 Sludge dewatering operation with sludge dewatering sieve. The device is Longzhong heavy industry for material dehydration, desliming sculping efficient vibration screening equipment and is also a special equipment for sludge dewatering. Because of its good dewatering effect, large processing capacity, high screening precision, small investment cost and other advantages, it is widely used in the environmental protection engineering slurry purification and the dewatering and classification of fine materials.
The sludge dewatering screen is mainly composed of a screen box, a vibration exciter, a supporting system and a motor. Through the adhesive tape, the coupling shaft to respectively drive two unconnected vibrator synchronous reverse operation, centrifugal force generated by the two groups of the eccentric mass component along the direction of vibration superposition, reverse centrifugal offset, thus forming single along the vibration direction of vibration exciter, screen box artificial reciprocating linear motion, has reached the stage dewatering effect.
The advantage of the performance of sludge dewatering screen is:
1, dehydration screen vibration motor, easy replacement, the base rubber spring used to shock, so that the amplitude is not large, slow vibration, you can take off the clean.
2, can according to the yield and moisture to customize and body side panel has stepped up to the plate and the bottom is provided with a support, hitting bottom bar, a feed inlet and a triangle support plate, plate thickness.
3, the vibration motor is fixed with high strength bolts, the bottom of the spring is a rubber spring, the quality of the spring will affect the life of the vibration motor.
4, the welder welding cannot appear welding hole bottom channel support.
5, in addition, the mesh can be adjusted according to the equipment, low noise, good dewatering effect.