New generation industrial sieves and screens, come on and make an order immediately!
2016-07-22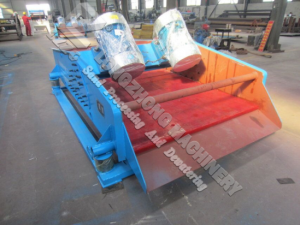 With the explosive growth of mining metallurgy technology equipment and industrial globalization speeding up,there are a lot of sieve dehydration can choose for the masses of users in the modern process of sand-making line.But equipment is uneven, It is difficult to find a production which can really satisfy customers, and meet the supply chain system of sand products .LZZG in order to serve the customers for their continuous pursuit,research and design a new industrial sieves and screens with innovation of concept and called the name"TS dewater vibrating screen",and successfully applied in sugar,salt and other industrial sectors.The device can grade the materials into various levels and dehydrate & impure the materials at the same time.
Different from other manufacturer's product design, LZZG uses the new type of polyurethane sieve plate,  it is a kind of prolonged use material, opening rate reached 100%, and can effective self-cleaning,no blocking,no water leaking.According to the sand trajectory in the production, we have designed the sand walking in the sieve surface with a 3 degrees horizontal plane Angle,which can make finished sand a  lower water content in the case of the same power consumption . Due to the special structure of the fuselage, dehydration screen overall weight is lighter than other products, and therefore easier to tear open outfit, easy to maintain, easier to effective docking and other equipment, so that the users will reduce the overall cost and increase revenue.More importantly, through the sieve dehydration processing, sand water content achieved below 15% , finished product sand have a perfect performance can sell directly, saving the drying time and cost, improve the sand production and site usage.