Latest news! Why should we choose gravel screen in sand making plant?
2016-07-21
With the development of economy and technology, construction and other industries has mushroom growth. So the sand is growing demand. However, there is a big problem in sand making processing. That is the moisture content is too high for some construction sites.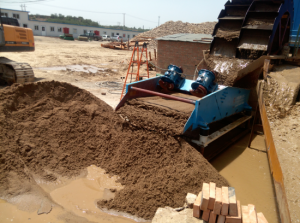 In order to solute this situation, our company launched a product—gravel dewatering screen. TS dewatering screen is mainly used in mining, construction for coarse or fine sand dehydrate processing.With the advantages of simple structure and easy maintenance, it becomes a hot sell in our market. It adopts dual-motor self-synchronization technology. The motors coordinate with universal eccentric and adjustable amplitude vibrator. When the two motors start to work, the vibrators move reversely at the same time. The centrifugal force is generated by the eccentric blocks superpose themselves and form a single direction vibration. The high frequency vibration drives the screen move back and forth in line repeatedly. So the sand will be dehydrated and filtered.
This machine solute the situation of moisture content is too high to a large extent. So the gravel screen is needed in sand making plant.
If you need our products or have some question, please feel free to contact us, we will answer your questions patiently.