Why choose this aggregate screening machine is the right decision ?
2016-08-05
High frequency aggregate screening machine is designed to recover coal slurry and product dehydration on the economic and effective purpose . Compared with disk vacuum filter , the sedimentation type centrifugal dewaterer , horizontal sedimentation centrifuge , it has simple structure , low cost , convenient maintenance , large capacity , simple process system , and low cost of recovery of coal slurry , and the advantage is decided by its structure characteristics and movement characteristics .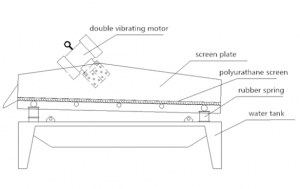 High frequency vibration sieve for dewatering mining materials , is mainly used for dehydration of fine grain of dehydration and grading , slime or tailings recovery . LZZG series of dewatering screen , uses a type or flange type vibrator , by two motors outside do reverse self synchronous rotation , makes the screen body do periodic reciprocating motion along a straight line direction , so as to achieve classification dehydration purposes . Screen box adopts high strength bolt connection , the screen surface is composed of arc segments with straight line segment , structure to be strong and durable .