Warmly congratulate Longzhong Heavy Machinery obtained SGS international certification
2016-11-01
SGS is the world's leading institute aims to inspection, verification, testing and certification, also is quality and integrity benchmarks that recognized as the world's. SGS marks the authenticity of enterprise qualification, on behalf of the credibility of the quality and reliable reputation and services. in the international heavy industry in the credibility of the credibility and credibility of protection.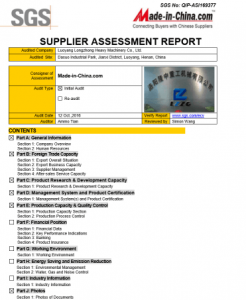 SGS is a comprehensive inspection facility for a variety of physical, chemical and metallurgical analyzes, including destructive and non-destructive testing, provide a complete set of quantity and quality inspections and related technical services to  consignor, provide inspection services before shipment, provide various services related to international trade such as commodity technology, transportation and warehousing.
Longzhong Heavy Machinery obtain this certification with professional technical and industry norms. It marks Longzhong Heavy Machinery has taken a step forward to international market all employees in the future will continue to work ,Keep going!