Latest news! 2016 new product desander for sale
2016-09-27
Desanding plant(Desander plant) is widely used in the purification and recycling of slurry for the construction of hydro power, continuous concrete wall, slurry shield tunnel,piling construction,river and lake cleaning,sewage sludge treatment etc. This equipment is increasingly becoming a necessity of civilized construction since it not only can cut down construction cost, but also can reduce the pollution of the environment.
By fully purifying slurry, it is favorable to control slurry index, reduce drill stuck phenomena, and improve drilling quality.
By thoroughly separating the slag and soil, it is favorable to enhance drilling efficiency.
By realizing the repetition use of slurry, it can save slurry making materials and thus reduce theconstruction cost.
By adopting the technique of close cycle purification and low water content of removed slag, itis favorable to reduce environmental pollution.

1.External pump ;      2.buffer box ;               3. vibrating motor
4.Slurry storage tank   5.centrifugal pump       6. desander cone;
7.intermediary tank;    8. fluids level float switch;    9. outlet pipe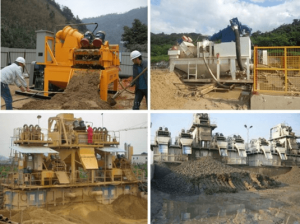 Best quality desander help you better deal with sludge.