A durable life with the correct maintain of dewatering screen
2016-08-03
Dewatering shaker , as known as dewatering screen , the device is playing important role in many industrial sectors . Meanwhile the additional value of sieve dehydration we often refer to : low silt content of products can use dewatering screen directly to achieve the same effect , do not need to use sand washer , thereby saving the cost of customer . A lots of customers often put into use immediately after purchase , sometimes they will ignore some of the daily maintenance details , not only cause the increase cost of maintenance , but also affect the normal operation of the whole metallurgical industry chain .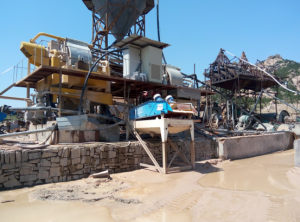 Then which methods can help us to have a long service life of dewatering screen , in addition to the initial installation matters ?
1 .Before starting the manner :
(1) check whether there is any damage on the coarse mesh and fine mesh
(2)check transportation support dismantled.
2 . Startup :
(1) pay attention to the presence of abnormal noise
(2) the current is stable
(3) vibration has the same shape
3 . After use, namely clean after each use.
Regularly check the coarse mesh, mesh and spring without fatigue and damage, the fuselage parts damaged due to vibration, the part of the need to add the lubricating oil must be lubrication.